We're midway through month 8 of the New Albany 365 challenge. Month 8! That's almost a pregnancy. Lest the rumors begin, I have no intention of giving birth to anything at the end of this journey, except one huge 'What I've Learned' entry, or three.
Since we last talked, I've cheated twice more (though admittedly on the same trip to the same store): Razors and lip gloss. I can safely say that there is not one local grocery store or drug store that carries the razors I use- and the ones they do carry put my legs at risk of looking like candy canes from razor burn. Razors are definitely something I can't source in New Albany- and, we were stopping by Thriftway, which had some acceptable options, until they closed. After that, I was stuck in the land of one blade, and that's just not kind to the shins.
Now that confession is over, we're to the real reason I started this post. I'm sharing ten things I'd like local businesses to know that either help me either want to do business with you, or make me run away screaming.
With the usual caveat that these are in no particular order except for how I jotted them down on the back of an old piece of one of the kids' homework, let's start with...
10. Hours. As a mom that works, volunteers, takes kids to activities, runs, and occasionally even takes a bit of 'me' time, my schedule doesn't always allow for me to visit you between the hours of 9 and 5. Heck, sometimes even when you're open until 8, I have to actually plan a trip to come shop or get my items and block time and childcare. I know it sounds crazy, but perhaps you could have extended hours some days...or, as another brilliant friend mentioned- work with your competition so that you can alternate late days. It's been done before and everyone wins, and I'm not left to have to hit a box store.
9. Closing during your business hours. I get it- emergencies happen, and with a smaller shop, you often don't have the staff to keep it open when these things occur. I totally forgive you and will come back another day- unless, on that second trip, you're closed again in the middle of the day during your stated business hours, with no notice, no nothing. I want to spend my money with YOU- not big box store X. I'll drive out of my way and take my precious time and sometimes even pay more because you live here, employ people, and invest yourself into the community. But I can't keep coming to find you closed on multiple occasions. Gas is expensive; time is money; and I need what I need, within three or four days of needing it.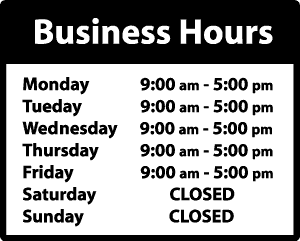 8. If there is no reason to bring politics into your business, don't. You may be passionate about our President, or you may not. You may love our mayor and city council, or you may not. Regardless of your views, know this: You don't know what mine are, or the other guy that just walked into your store. I'm here to buy a gift for a friend and I don't want to hear a diatribe on political issues even if I share them. You also run the risk that you're my polar opposite. I'm ok with folks that I don't agree with; I'm NOT ok with people that don't have the filter to keep political rantings where they belong: the internet, with friends, or family. If you can't honor and respect this, I won't return.
7. If there is no reason to bring religion into your business, don't. Substitute all of the above with religious dogma, faith, and belief and the same holds true. (Not applicable if you are a Christian Bookstore or other such business that profits from the statement of the religion or faith in the name itself.) There are a million flavors of faith and religion (and lack of), and chances are we don't quite agree on all of it...plus, there's the glaringly obvious fact that what you're selling has nothing to do with any kind of theology. Nothing. Though anecdotal, I've not found businesses that profess a faith to be any more moral percentage-wise than those that don't.
6. Be careful who you hire. These people represent you when you're not there, and you need to make absolutely sure that they can do so without supervision and with the same dedication to your business that you do. I've seen local businesses lose customers because the man or woman at the counter can't be bothered to set their Sudoku game down for five minutes to answer some questions. In some areas, we have quite a bit of competition in variety in New Albany- and I'm not going to let you know that your clerk was rude or ignored me...I'll just go elsewhere.
Thoughts? Do you agree, or disagree? Let me know- and, if you're a business owner, I'm totally open to discussion about why I'm wrong or inaccurate.
Part 2 to follow in a few days.